The night harvest is a practice that consists of harvesting the grape at night when the temperature of the grape has slowly decreased and the grape is already fresh. The objective is to avoid temperature contrasts in the grape so that the aromas and organoleptic characteristics of the fruit are preserved until they enter the winery.
We at Bodegas Ejeanas control the vineyard from the beginning, limiting the fruit quantity per vine and directing them so that they form correctly. We maintain the vineyard with the utmost care during all seasons of the year in order an adequate maturation of the grapes trying to minimize the impact of changes in the weather.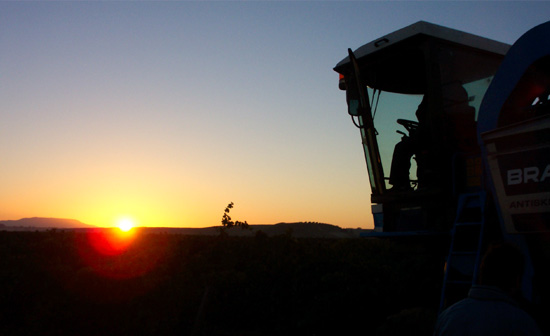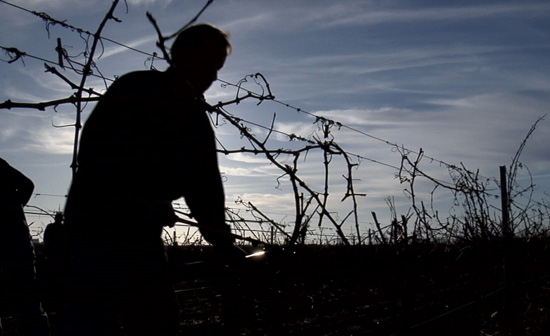 In addition to the night harvest, Bodegas Ejeanas has incorporated the Cromoenos method awarded in the Vinitech-Sifel 2012 Innovation competition held in Bordeaux. This system allows to analyzed the grapes in order to predicts the optimal state of maturity of the tannins and the aromatic profile of the wines. The most important thing to obtain a good wine is to start with a quality raw material.
After harvesting next step is the grape transformation into wine. The elaboration is carried out in stainless steel tanks with temperature control.
Subsequently, it is bottled and labeled in the case of young wine, or transferred to aging cellars for aging in American and French oak barrels from the Allier forests.
Quality and innovation
In our barrel cellar we have installed an innovative and pioneering procedure in Spain: an Ozone injection equipment to guarantee the cleanliness and quality of our wines. Ozone acts as a disinfectant, disappears without a trace and prevents the development of any microorganism in the barrels without damaging any wood compound.
We belong to the Protected Geographical Indication IGP Ribera del Gállego-Cinco Villas as quality certification for our wines,
We are certified Bureau Veritas. They inspects our activity during the production processes and their traceability from the vineyard to the bottle as well as they monitoring every batch from the winery to the final consumer. This gives us a guarantee of quality product we can offer our customers.
Our wines are placed on the market under the Vega de Luchán brand, the name of the location where the vineyards are, and UN – Uva Nocturna that refers to the peculiar way of harvesting our grapes at night.
Although our natural market is Aragon, and we are proud of our land, our wines are also consumed in a large part of Spain and also in several countries. Our target has always been our brand reach other regions and countries that value our work and the quality of our wines.
We have a human team without which it would not be possible to achieve our objective.